Communiqué
15 novembre 2022
Early childhood development: what do quebecers expect from their government?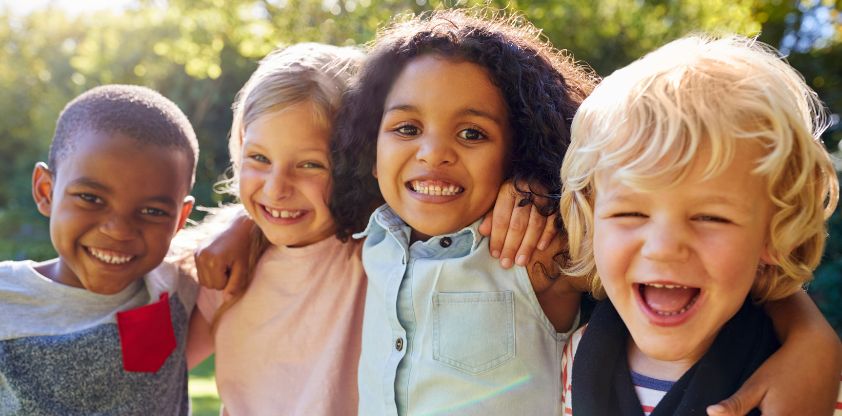 Montréal, November 15th, 2022 – 87% of Quebecers think the provincial government should invest more in the welfare and development of children between the ages of 0 and 5. That was among the findings of a survey conducted for the Early Childhood Observatory (Observatoire des tout-petits).
At a time when the increased cost of living is a source of great concern for the Québec population and undermining families' security, close to 9 out of 10 respondents (89%) feel that the government should be doing more to support children in vulnerable families.
"This survey clearly shows that the population of Québec is in favour of collectively supporting early childhood development, starting right at pregnancy. Citizens also want special attention to be paid to vulnerable families that have been particularly affected by the pandemic. Survey results show that respondents' top three priority investments are access to affordable housing for families, prevention of maltreatment, and improved access to health and social service specialists," explains Fannie Dagenais, Director of the Early Childhood Observatory.
Access to affordable housing: investment priority #1
The survey tells us that Quebecers' top priority is access to affordable housing for families: close to 1 out of 3 (32%) said that it should be one of the government's top three investment priorities.
According to the scientific literature, living in unaffordable housing can affect young children's development. It is linked to a greater risk of delay in physical, emotional, cognitive, language and social development. It is possible, however, to take measures that could increase families' access to affordable, suitable housing—for example, by improving access to social housing. Unlike Canada, several European countries have high percentages of social housing. Compared to Québec's 160,000 units of social and community housing, Austria, with a similar population size, has 900,000. Vienna is one of the rare European capitals not experiencing a major housing crisis.
Preventing maltreatment: investment priority #2
The survey also reveals that a similar proportion—close to 1 out of 3 Quebecers (29%)—think that preventing child maltreatment should be another of the government's top three priority investments in the area of early childhood development. We know that the effects of maltreatment on young children are greater because they are more vulnerable and dependent on adults for their daily care and basic needs.
The report submitted by the Special Commission on the Rights of the Child and Youth Protection recommended a major shift focusing on prevention and taking early action. The scientific literature shows that it is possible to prevent maltreatment by improving living conditions and reducing families' sources of stress. This can take many forms such as housing support, income supplements, family-work balance measures, social support, and access to quality educational childcare services.
Access to health and social services specialists for families with young children: investment priority #3
The third investment priority identified by 1 out of 4 survey respondents (27%) is giving families with young children better access to health and social services specialists.
Research has shown that having timely access to health and social services when needed is critical for young children. Inadequate access to health care is linked to increased pain, complications and emotional distress in this age group. It is believed that the majority of effective interventions happen before a child is 3 years old. For example, a child who is having speech difficulties and is unable to see a speech therapist will be at greater risk of developing problems related to behaviour, as language development is essential for the acquisition of good social skills.
The good news is that something can be done to improve young children's access to specialists. A study conducted with CPE educators showed that partnering services provided by an occupational therapist enabled them to be better equipped to identify and work with children with special needs. This system helps to ensure that children are more rapidly referred to appropriate services.
The Québec population is concerned about the situation of children in vulnerable families
The Early Childhood Observatory's survey tells us that Quebecers are sensitive to the reality of vulnerable families. The vast majority of the population (87%) agrees that the Québec government should invest more in order to improve access to services for children with disabilities or special needs.
Quebecers are aware of the importance of access to quality educational childcare services. According to survey respondents, the government's two main priorities in this area should be ensuring that children in low-income families have access to such services (28%) and guaranteeing spaces for children who are in vulnerable situations or at risk of maltreatment (26%). Attending a quality educational childcare service in early childhood helps to equalize opportunities and could even reduce the gap in academic results between children from disadvantaged neighbourhood and their middle-class counterparts.
"Societies that invest in early childhood and families have the highest standards of health and the lowest levels of inequality. It is important that we take advantage of the opportunities provided by this year's Early Childhood Week (Grande semaine des tout-petits) to think collectively about the solutions that need to be implemented to make sure that the youngest citizens of Québec start out with the best possible chances on their side. Every level of government and every sector of society—from the community to business—can have an influence on families' living conditions and early childhood development," concluded Ms. Dagenais.
Survey method
The results presented in this document were obtained through a survey conducted by Léger of 2,541 Quebecers from August 4th-19th, 2022, on behalf of the Early Childhood Observatory.
About the Early Childhood Observatory / Observatoire des tout-petits (tout-petits.org)
The mission of the Early Childhood Observatory, a project of the Lucie and André Chagnon Foundation, is to communicate the current state of knowledge in order to promote informed decision-making on the subject of early childhood in Québec. Our goal is to ensure that every young child has access to conditions that will enable them to develop their full potential, regardless of where they were born or where they are growing up.
– 30 –
Source: Observatoire des tout-petits / Early Childhood Observatory
Information:
Sandrine Gagné
Morin Relations Publiques
sandrine@morinrp.com
438-873-2909 (cell)