Communiqué
10 décembre 2020
The Early Childhood Observatory salutes the Québec government's decision to offer access to health insurance to a larger number of children in migrant families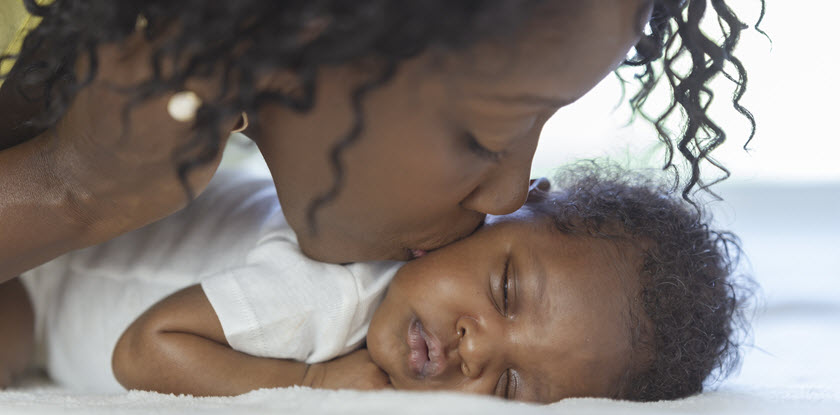 Montréal, December 10, 2020 – The Early Childhood Observatory (l'Observatoire des tout-petits) is delighted that a larger number of children of parents with precarious immigration status residing in Québec will now be able to benefit from health and medication insurance. Until very recently, these young children did not have access to health care coverage under the provincial insurance program because of their parents' immigration status. Apart from depriving those children of the care they need, this situation has had major financial repercussions for some families.
"This is excellent news, especially at a time when the pandemic has exacerbated social inequalities. Living conditions are more difficult than ever for migrant families with precarious status, who have been hard hit by the current crisis," explains Fannie Dagenais, Director of the Early Childhood Observatory.
The Observatory questions the exact extent of the announced coverage, however. For example, if migrant parents are waiting for their status to be regularized after their temporary resident permit has expired, will their children be covered during the waiting period? It can take a very long time to obtain a response to this type of request—anywhere from a few months to a few years.
The Observatory also hopes that the government will expand the eligibility conditions of this new law to cover healthcare during pregnancy, as maternal health during gestation is an important factor in children's health.
Pregnancy monitoring is equally important
"Children who do not have access to care when they need it may grow up with disabilities, developmental disorders or undetected chronic diseases—any of which could have repercussions on their future lives," explains Fannie Dagenais, Director of the Early Childhood Observatory. "Pregnancy monitoring is extremely important for the health of both the mother and her unborn child. Tests and ultrasound scans done during pregnancy can reveal the presence of multiple fetuses, fetal abnormalities or other conditions that could lead to complications during birth. According to the World Health Organization, quality care during pregnancy and childbirth could prevent a large number of deaths in women and babies."
Facilitating access to healthcare for these children also represents an investment that benefits society as a whole, as it helps to prevent several complications that can be difficult to treat and thus costly for the healthcare system. Since most of these children are here to stay, they will eventually be eligible for health insurance. According to a California study, the decision not to subsidize prenatal follow-up for migrant women with precarious status would result in an increase in premature and low-weight births, which could subsequently incur health care costs seven times greater than any initial savings.
Increased vulnerability for migrant families during the pandemic
Loss of employment, food insecurity, confinement in crowded living conditions: vulnerable families have been the hardest hit by the current crisis, and immigrant families with precarious status are among them. Two studies conducted prior to the pandemic of migrant families living in the Montréal region revealed a difficult reality. Forty-eight percent of those families said they were barely or not at all able to meet their families' basic needs, and 66% had been forced to do without healthcare entirely[i]. Among the pregnant women included in study respondents, one out of five said they had been short of food at some point since their arrival in Québec[ii], and 75% had been unsuccessful in obtaining the medical attention they needed[iii].
"These families have to learn a new language, build a whole new social network and cope with their qualifications not being recognized," said Fannie Dagenais. "Barriers to health care, starting at pregnancy, make these vulnerable families even more vulnerable, and this can translate into serious issues for Quebec society." The children in these families will grow up to make an active contribution to building the society of tomorrow.
About the Observatoire des tout-petits / Early Childhood Observatory (tout-petits.org)
The mission of the Early Childhood Observatory, a project of the Lucie and André Chagnon Foundation, is to help ensure that the development and well-being of Quebec's very youngest children has a place at the top of the province's list of social priorities. To achieve this goal, the Observatory compiles the most reliable and relevant data on early childhood (from pregnancy to 5 years of age), disseminates that information, and encourages dialogue on possible collective action.
– 30 –
Source: Observatoire des tout-petits / Early Childhood Observatory
Information:      Béatrice Gougeon
                                   Morin Relations Publiques
                                   514-688-3936 (cell)
[i] Based on a study by MSAM (Migrants sans assurance médicale à Montréal).        
[ii] Based on MSAM study.
[iii] Based on a study conducted in Montréal between 2014 and 2017 on the prenatal, postnatal and childbirth experience of 72 migrant women recruited at the clinic for migrants with precarious status run by Doctors of the World Canada.